Core Fitness is excited to bring you the scoop on TRX Suspension Training. This workout method makes a great companion to traditional weight training or Pilates, and has a staggering amount of applications. We were one of the first gyms to offer TRX Suspension Training classes in the Myrtle Beach area and our clients have been thrilled with the results. Let's take a look inside the method that's gaining exposure as one of the most effective workouts available.
NECESSITY IS THE MOTHER OF INVENTION
We've all heard this phrase before. Some of humankind's best advancements have been born of the frustrations of one individual, trying to solve a single problem. The story of TRX Suspension Training is no different.
Developed by a U.S. Navy Seal (they know a thing or two about fitness), this system was designed for maximum effect, in any environment, with little space or time requirements. Certainly, space & time are both at a premium in our busy 21st century lives. This is just one reason why the TRX Suspension Training system might be just right for you.
Weighing only 2lbs, the actual equipment relies on gravity & resistance (rather than a complex series of mechanisms & weights). The exercises can all be adapted to your body-type, and modified to suit your fitness needs. Are you an athlete looking for a workout that can give you a performance edge? A golfer looking to add power to your swing? A busy mom with an unforgiving schedule? TRX Suspension Training System is perfect for each of you.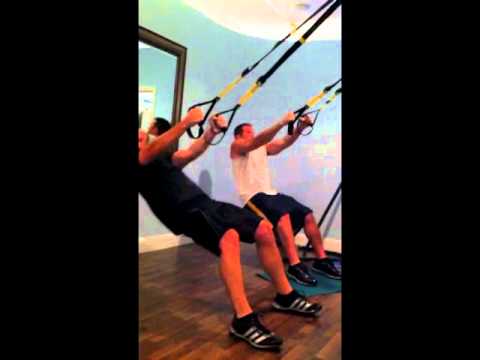 KNOWLEDGE IS POWER 
Core Fitness has invested the time & money necessary to learn the techniques you need to succeed. We're here to help you make the 'body breakthrough' you've been craving. Remember, effective workouts are not only about pushing yourself farther. It's also crucial to develop mindful awareness of what your body is telling you before, during & after the workout. A personalized or group class session with our TRX Suspension Training System pros will help you gain this awareness.
Hopefully, we've piqued your interest. The TRX Suspension Training System is quickly gaining popularity & use throughout the fitness community (and beyond). However, we know you'll have questions & concerns, and our team is ready to answer any & all of them. Contact us today to find out how we can help jump-start the new you!