It was another great weekend (and hot weekend) at the CrossFit Up Dog Summer Challenge! In our 4th year participating in the Native Sons Salt Games, the Up Dog Summer Challenge CrossFit competition has unquestionably become the featured element of this annual event that kicks off the summer season. 
This year we had more than 500 athletes from 11 states, an 85% increase from 2015.  On behalf of our team at CrossFit Up Dog, we thank you and look forward to what next year has to bring.  This event has become bigger then we ever could have imagined, and it's because of the competitors, our sponsors and the volunteers.
Below you will find all the podium finishers from the two days. The talent level at this year's games was the best we've ever seen and we are already excited to see what next year's field has in store.
We at CrossFit Up Dog and Core Fitness want to send our thanks out to a number of people who helped make this year's competition so successful. First, we MUST thank our volunteers! Without you guys, this event would not have been successful. Anyone who competed or attended saw how hard our volunteers worked as judges or setting up equipment. Temperatures were in the 90's all weekend, but you guys rocked it! Honestly, we aren't sure what was harder – competing or volunteering. Thanks!
Next, we must thank all of our sponsors. Without your generous donations or time spent helping us, it would have been much harder on our staff. When we started CrossFit Up Dog, we wanted to strengthen the community within Myrtle Beach, and the Salt Games is a prime example of our community coming together. See the full list of sponsors below.
We must also thank all of the athletes that competed this year. You guys not only went balls to the walls out there (who liked that event, by the way?), but the sportsmanship was great to see from all the teams and individuals!
Finally, we need to thank the host of this great event, Native Sons. Every year Native Sons hosts the event, this year they donated the cash prizes for the Individual RX Male and Female Divisions. Without you guys, we couldn't have made it such a great weekend.
2016 CrossFit Up Dog Summer Challenge Podium Finishers | Full Results
Men's Individual RX
Josh Miller | CrossFit Spartanburg (South Carolina)
Adam Vinson | CrossFit Oneonta (Alabama)
Austin Linvinston | Pale Horse CrossFit (South Carolina)
Female Individual RX
Lauren Weeks | Pale Horse CrossFit (South Carolina)
Maureen Koegel | CrossFit Winston-Salem (North Carolina)
Ali McCracken | CrossFit Spartanburg (South Carolina)
Male Individual Scaled
Marshall Chandler | CrossFit Albermarle (North Carolina)
Connor Legg | CrossFit Elect (Georgia)
Kyle Oland | CrossFit Up Dog (South Carolina)
Female Individual Scaled
Rebekah Horn | CrossFit Clemson (South Carolina)
Alexandria Warren | CrossFit Winston-Salem (North Carolina)
Krystal Reynolds | CrossFit Haymount (North Carolina)
Team 4 Male RX
Team Purge | Michael Calhoun, Marty Rotan, Justin Graham, Lance Crouch – CrossFit 157 (South Carolina)
Cover Four | Jason Layman – Fort Mill CrossFit (North Carolina), Tyler Klipa – CrossFit Swerve (North Carolina), Jared Shaw – CrossFit 843 (South Carolina), Kyle Bernier – CrossFit Vitality (North Carolina)
Bro Squad | David Johnson, Bam Bam Rogers, Matt Shuler, Justin Annis – CrossFit 706 (Georgia)
Team 4 Female RX
Raising Raiders | Erika Varriale, Morgan Samson, Megan Markoff, Tara Woodcox – Down East CrossFit (North Carolina)
Integrity's Angels | Megan Goldston, Caroline Hilton, Quantasia Caldwell, Katie Haught – CrossFit Integrity (South Carolina)
Southern Sass and Nothern Ass | Jenn Nixon, Jen Schult, Ashley Sparks, Amy Payne – CrossFit Crash (South Carolina)
Team 2/2 RX
United by Fitness | Nick Shape, Elijah Hockensmith, Kate Sel Solar, Jessica Roper – Port Royal Sound Gunners (South Carolina)
Integrity's Misfits | Brian Kost, Amy Halperin, Courtney Sterner, Patrick Yib – CrossFit Integrity (South Carolina)
The Honey Badgers | Gene Magliaro, Jackie Dillon, Mackenzie Long, Trey Windham – CrossFit Clemson (South Carolina)
Team 4 Male Scaled
Pec Decs & V-Necks | Shawn Bennington, Russel Reed, Matthew Chambers, Ryan Sanders – CrossFit Elect (Georgia)
4 Hefty Hunks | Chad Mullinix, Zach Brockman, Mike Martineau, Danny Solleau – CrossFit Up Dog (South Carolina)
Beer & Burpess | Ross Dunovant, David Myers, Tim Weddle, Bryan Peschul – CrossFit Eden (North Carolina)
Team 4 Female Scaled
Vigilante Savages | Ashley Hawkins, Stephanie Chi, Kim Walsh, Mari Furr – Vigilante CrossFit (North Carolina)
Butts & Coconuts | Heidi Boroski, Angela Noreck, Tricia Loveday, Cori Bowker – CrossFit Asperitas (South Carolina)
Fit(ish) | Debbie Johnson, Devon Ussher, Alle Singleton, Michelle Angelo – CrossFit Myrtle Beach (South Carolina)
 Team 2/2 Scaled
UpDog's Pirate Booty | Shannon McDaniel, Stephen Sorensen, Andy Pearson, Amy Shroff – CrossFit Up Dog (South Carolina)
Wodtastic 4 | Bill Woods, Mark Rutherford, Angela Featherstone, Ashley Warren – CrossFit Gastonia (North Carolina)
Yoda and his Jedi's | DJ Carlisle, Haley Carlisle, Natalie Belga, Derrick Carlisle – CrossFit Elect (Georgia)
Notes
CrossFit Spartanburg, CrossFit Winston-Salem and CrossFit Integrity had the most podium RX finishers, with two each.
CrossFit Up Dog and CrossFit Elect had the most overall podium finishers with three each.
Podium teams from state: 18 South Carolina, 11 North Carolina, 4 Georgia, 1 Alabama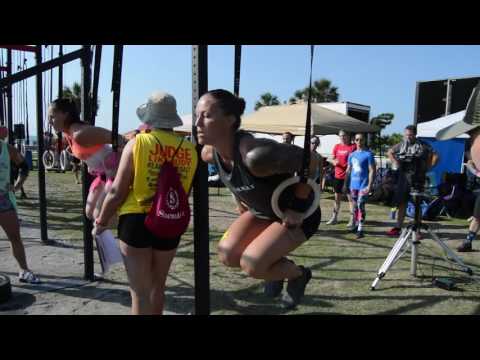 Official Sponsors
Handley's Pub and Grill (Andrew Handley), Tsunami Surf Shop (Tal Banay), Coastal Carolina Oral and Maxillofacial (Elliot Maxwell) Wyndham Resorts (Travis Bary), Palmetto Paving (Shawn Godwin), Russell B. Long, P.A. (Russell Long), Bradley Development (Brad Queener), Art Burger/The Chemist/Noisy Oyster (Larry Bond), Beach One Realty (Jacob Mullins), Sparks Toyota (Patrick and Susan Sparks), Four of a Kind Maintenance (Michael Chaffin), Coastal Law (Michael Wells), Bourbon Street Bar & Grill (Jay McAllister), Monckton Law Firm (Billy Monckton), State Farm Insurance (Wade Davis), Myrtle Beach Diet (Brad Taylor), Wicked Tuna (Erez Sukarchi), Myrtle Beach Thrill Rides (Bill Prescott), Flagship Construction (Stan Parker and Hal Dixon), MKT Contractors (Tony Cooper), Ocean Lakes Campground (Dennis Wade), Southern Custom Painting (George and Tina Strumke), The Trembley Group (Nick Strumke), Myrtle Beach Hyundai (Robert Wingate), The Kangaroo Pouch (Chris Richardson), T-Bonz (Prize Sponsor)
Take our 10-question survey, so we can make next year's competition better: